Spring 2012 Specials!
If it's not spring now, it may be summer! Temps have been in the mid 70's for what, the last two weeks? It's been sooo nice out and I love how one day it's dead winter and the next the trees are budding, flowers are blooming, the grass is turning green and Robin's are running around screaming at each other, lol! And next month (my fav), APRIL SHOWERS! Mmm I can smell the rain now, its giving me goose bumps just thinking about it.
So I have been totally neglecting my websites and blogs. Things (as you've read in the last post) have been a little crazy, schedules have been all out of wack and I've been on one heck of a roller coaster lately. I keep saying, things will straighten out soon, just hang in there, so we'll see… hopefully it does!
So back on topic, Spring Specials. I've updated my Facebook Fan Page with a cute little spring time photo ad, in case you're anti-Facebook like my husband, here it is. Pretty awesome… keep scrolling to continue reading :)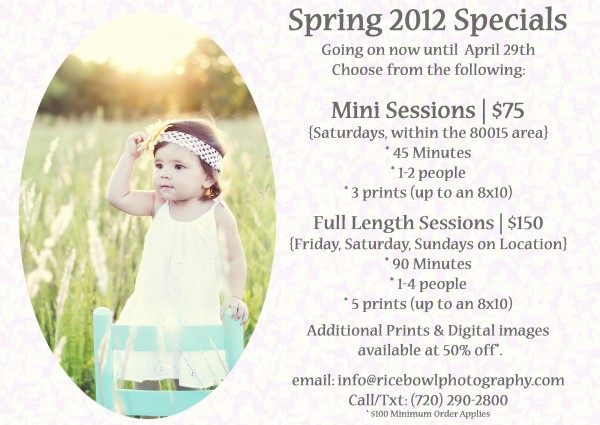 Next, I am currently looking for PORTFOLIO WEDDINGS for April, May & June (July is booked). Here are the details from my main site kristina-rice.com
WEDDINGS/EVENTS
For my brides and grooms that are on a tight budget then this may be a great option for you to consider! I am looking for small weddings held within the Denver Metro Area to help build my wedding portfolio this year. Clients should be aware that this is for PORTFOLIO building and my wedding photography experience is classified as a beginner.
*Because of the amount of time involved for weddings I am limited on the number of weddings I can book at no cost to clients.
Wedding Clients will receive the following:
Hourly rate waived
4-6 hours of coverage (coverage over 4hrs must provide a meal break or meal at reception)
1-2 photographers (second photographer is based on availability, not guaranteed and may require compensation)
Private password protected gallery to view wedding images
15 retouched full resolution digital images with print release
Add an Engagement session for $75. Includes 3 prints up to an 8×10 (or 2 digital file for invites) and the rest of the engagement images will be included with the Wedding images!
Please note that not all images in your gallery will receive editing, though most will have basic editing such as color and exposure correction. Additional editing, prints and products are available for purchase. ($500 minimum order applies)
And if you missed the peppy slideshow from my wedding in February, here it is again: